The sole accessories the figure includes are also aesthetically pleasing—translucent turquoise energy effects pieces that attach to and spiral around Chasm's fists. The power set for Chasm hasn't been explicitly explained yet to my knowledge, but I believe these represent some type of new psionic energy Ben can wield. The effects looks awesome regardless and are another high point of the release.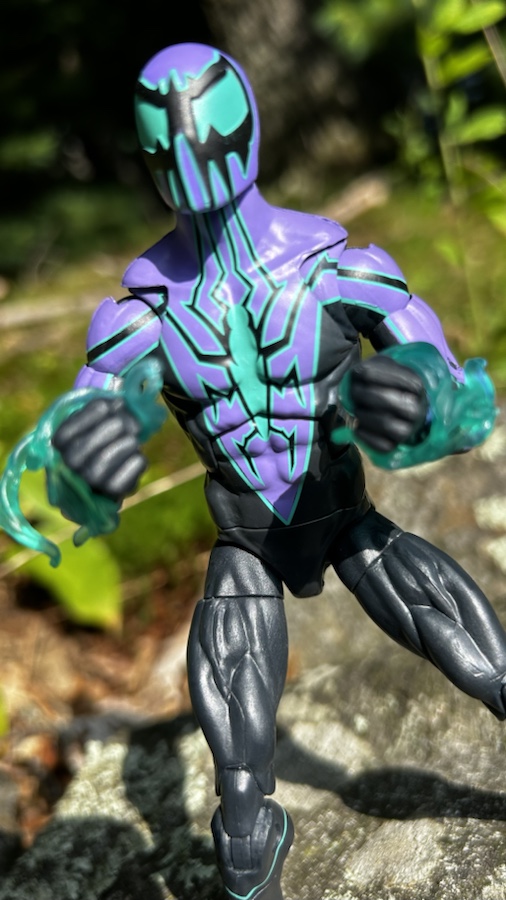 The nearly half-year "Spider-Man Beyond" story arc kicked off while I was in the hospital after my quadruple stroke in fall 2021, and I was pleased to read (as well as I could) the new spotlight on one of my favorite Spidey-related characters. Ben Reilly was finally back in the heroic role many fans think he deserved to be in, and things looked bright in the Spider-Verse.
Sometimes, prominent classic characters like Mephisto and Madelyne Pryor never make it into Marvel Legends figure production at all after decades of requests from fans. And sometimes, we get characters like the demented post-psychoactive goo villainous clone of Spider-Man as toys less than a year and a half after his first appearance. Fair or unfair, the Retro Spider-Man Marvel Legends Chasm figure has started shipping out—is this crazed, mutated Ben Reilly worth adding to your Spidey villains shelf?
Unfortunately, the Chasm figure itself is built on a decent body that's rather antiquated. I love that Hasbro gave Chasm butterfly swivel shoulders, but the pinned knees, pinned ankles and feet with mere hinges are all behind the times now. The pins blend a bit because they're black pins in black limbs, but they're still not ideal.
Unfortunately, as things tend to for poor Ben Reilly, everything fell apart. The benefactors sponsoring him as Spider-Man turned out to be evil, Ben's core memories were wiped out, and he got into a deadly battle with Peter that ended with the clone falling into a pit of mutagenic "psycho-reactive goo". And thus, the twisted new villain, Chasm, was born in March 2022.
Chasm has a slick character design that evokes feelings of a demented symbiote-looking Spider-Man, and I think the basic figure here does a swell job of capturing that coolness. The design is nicely applied and the colors are spot-on.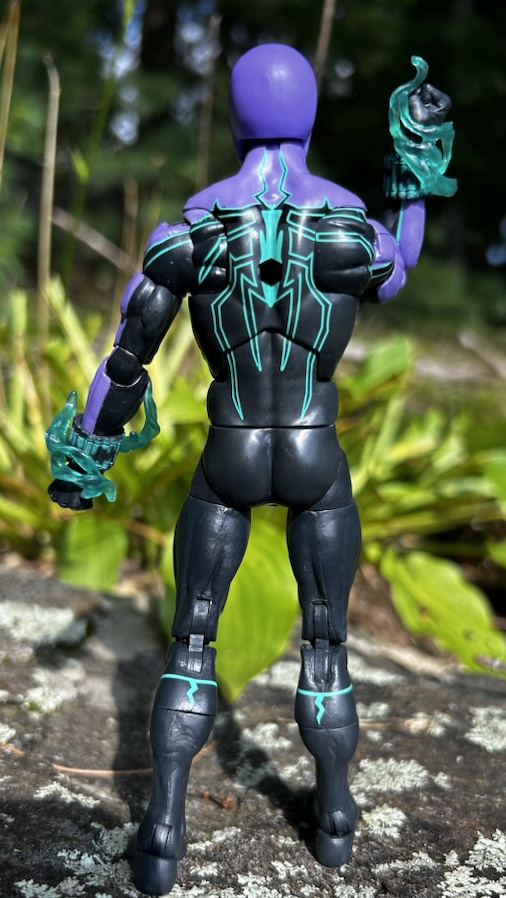 Although this is about as far as you can get from a "Retro" character, Chasm is part of this year's Spider-Man Legends Retro Series nonetheless.
In addition, we get precious little to add value to this $24.99 6" figure. Yes, the effects are neat—but them being the only accessories really limits ways to pose this figure and have fun with it. I get that Hasbro likely had limited reference material available, but simple things like neutral hands, splayed hands, pointing or even clawing hands all would have been simple add-ons that could have added new dimensions to this Ben Reilly figure.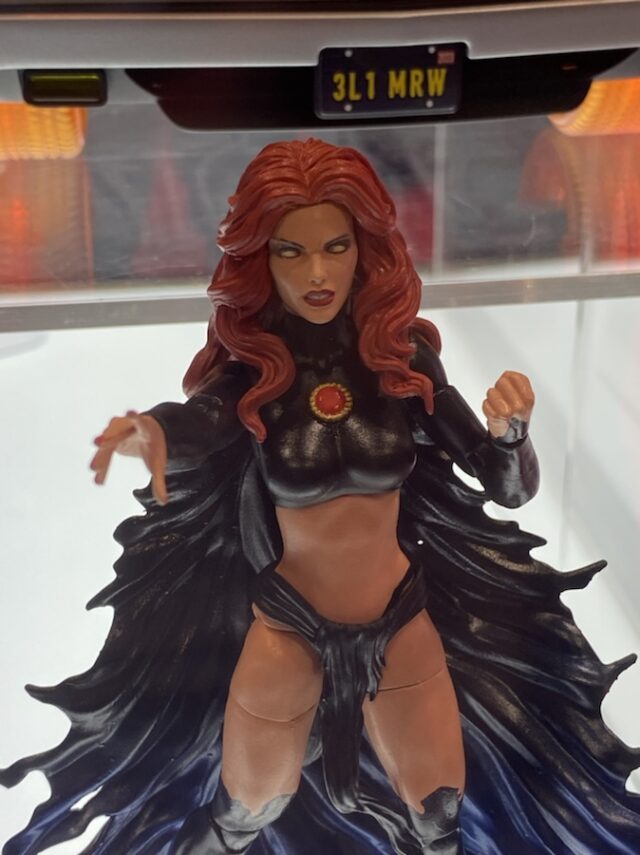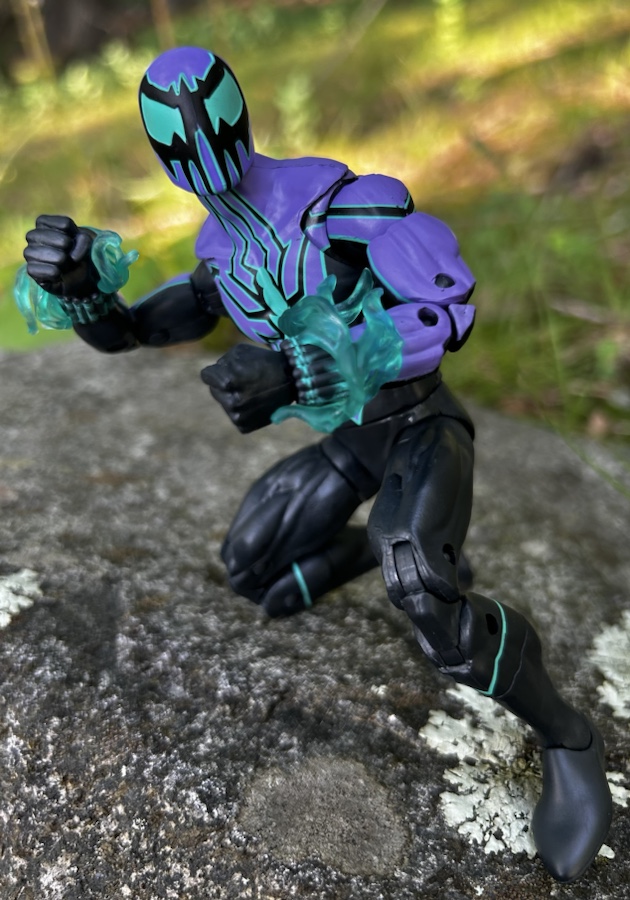 Chasm comes on the standard oversized Retro Marvel Legends packaging, which looks as sharp as ever. It feels a mite odd seeing a 2022 character on Toybiz vintage 90s style packaging, but it's still an attractive package.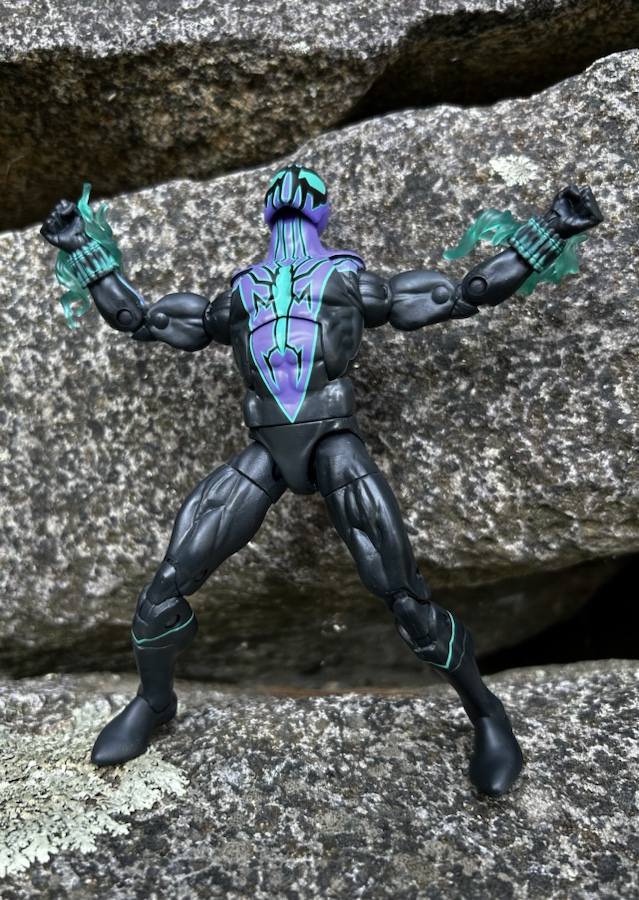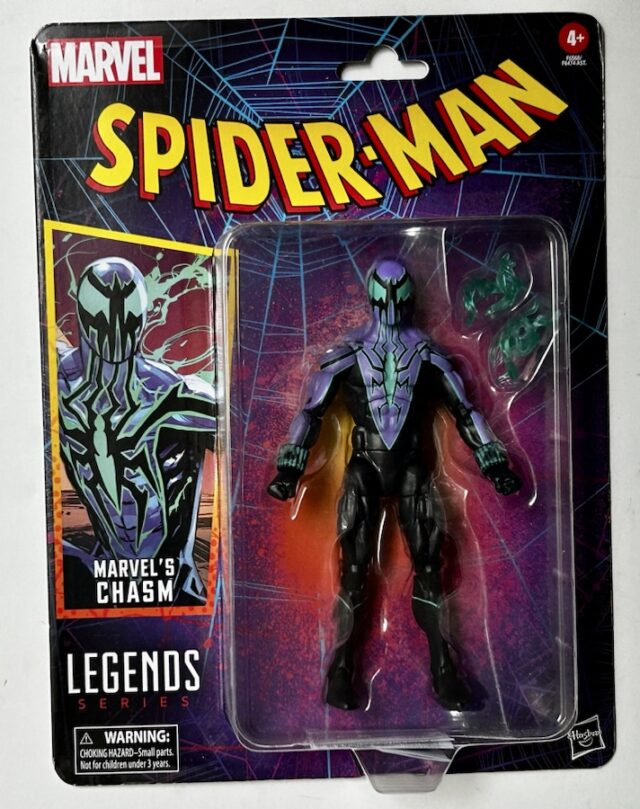 Chasm had a central role as co-antagonist with Goblin Queen (and fellow clone) Madelyne Pryor in last year's "Dark Web" storyline before being put on the storytelling sidelines for a while. Given the character's high-profile role the last couple years, it's not that shocking to see a ML Chasm released already—although it is disheartening to get this evil Ben Reilly in toy form while co-conspirator Madelyne Pryor is seemingly on ice permanently due to last year's failed Haslab including her as a potential stretch goal (photo of that figure prototype above).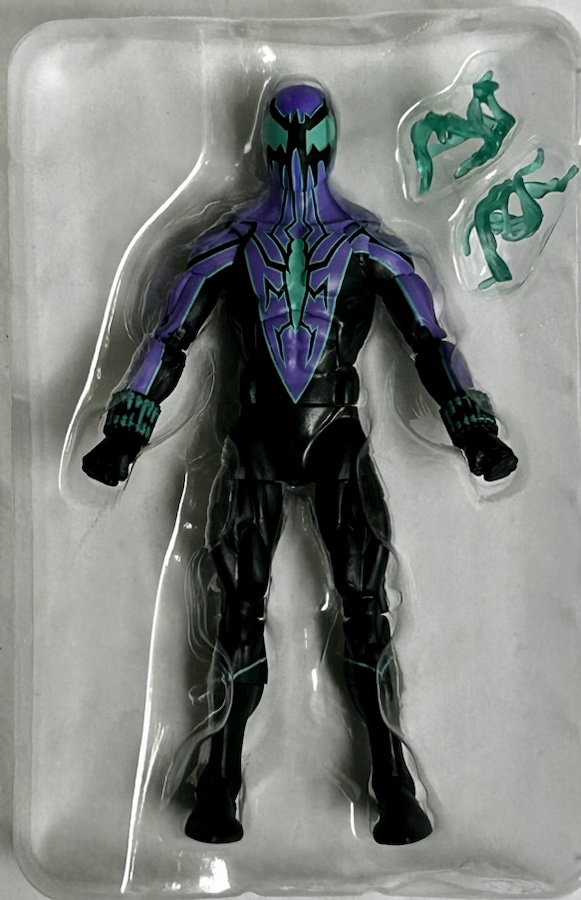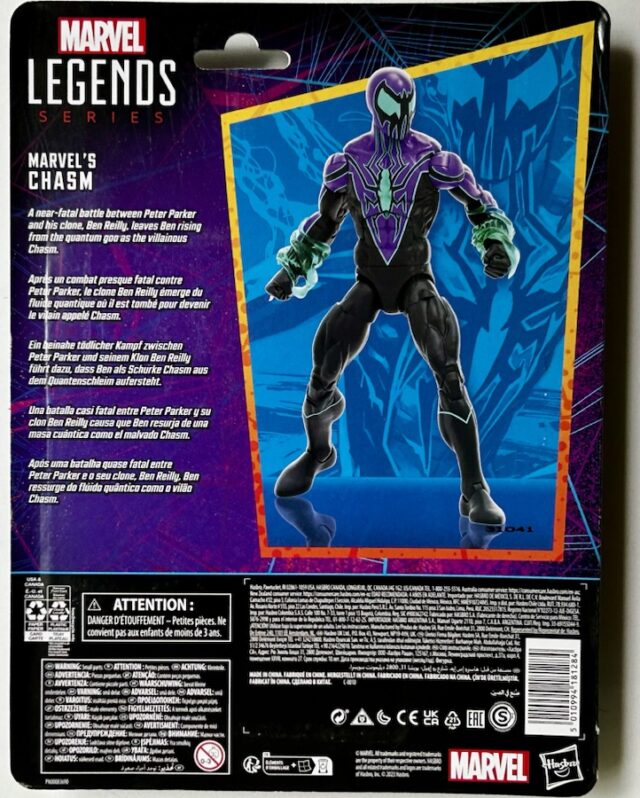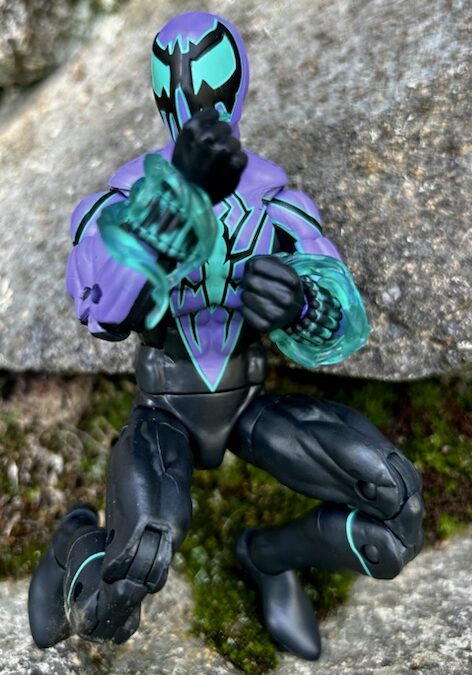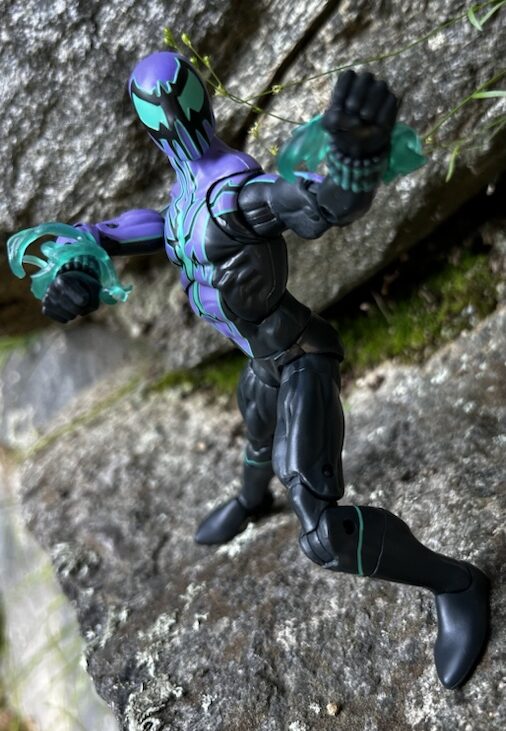 Dressed primarily in shades of purple and green, the Marvel Legends Chasm figure definitely looks the part of a Spider-Man villain. There's actually quite a bit of lining and detailing necessary for this costume, and I think Hasbro did a superb job making the deco match the comic book appearance authentically.
Overall: whether it's too soon for an action figure of this version of Ben Reilly or not, he's here now, and I'll review him as such. I think the color scheme and deco design of this Chasm Legends figure is great stuff, and I appreciate how the translucent energy effects really pop on the toy. Hasbro picked a decently articulated—though not their most modern or optimally articulated—(albeit pinned) body for this figure, which enables a fair amount of fun posing. The trouble is that there's just not enough extras here to facilitate many dynamic possibilities. With no alternate head and (shockingly) no alternate hands to swap the fists out for, this ML Chasm feels somewhat limited. I like getting a new-ish character this quickly, but I think Hasbro made too many compromises for that expediency. I think this is a good figure that falls short of being great due to corners cut for whatever reasons.