It is essential to choose age-appropriate toys that support each child's growth. On the other hand, there is no upper age limit when it comes to enjoying the SpongeBob SquarePants universe. Kids, teens and even adults can relate to and find joy in the adventures of Bikini Bottom.
So… What SpongeBob Toy Should You Get?
Now that you have seen our top picks, check out our full list of SpongeBob SquarePants toys below.  We've covered everything, from LEGOS and costumes to action figures and remote-controlled cars. Join us as we dive into each option, uncovering their highlights and quirks. 
Best SpongeBob Action Figures
❤️ Great quality pictures
❤️ For the whole family
❤️ All of the cards are based on real episodes
What We Don't Love:
With this Mega Bloks figure pack, fans will embark on an adventure alongside post-apocalyptic versions of Patrick, SpongeBob, Mr. Krabs, Squidward and Plankton. The figures are packed with fun and accurate details, bringing the chaos to life. Complete with exciting accessories like a colossal donut post and a tire launcher, kids and collectors can recreate iconic movie scenes or invent entirely new stories.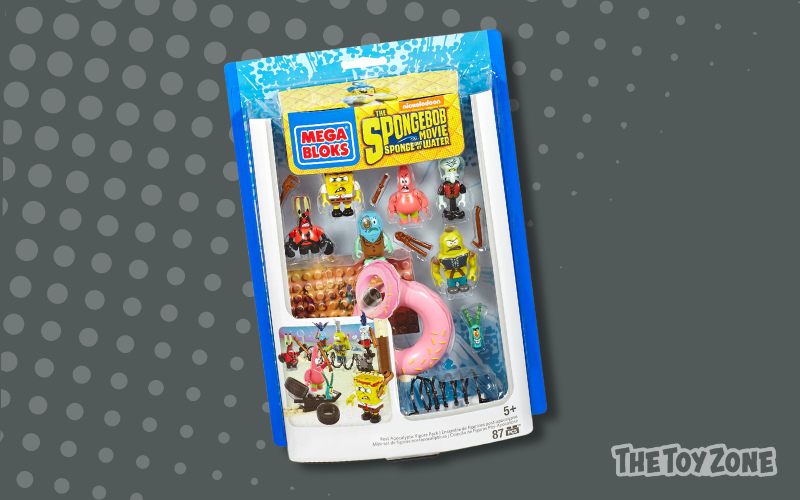 Recommended age: 5 years and above 
What We Love:
❤️ Snappy turns keep the game moving quickly
❤️ Adjustable difficulty levels
❤️ Features a pretty awesome Plankton figure
What We Don't Love:
Despite their small 2-inch size, these figures perfectly capture the personalities and traits of each character, making them great for recreating scenes from the show and inventing new stories. Plus, the figurines are incredibly versatile. Whether your little ones want to have fun in the living room, show off their favorite characters at school, display their growing SpongeBob collection, or enjoy splish-splash playtime in the tub, these figures are up for the task!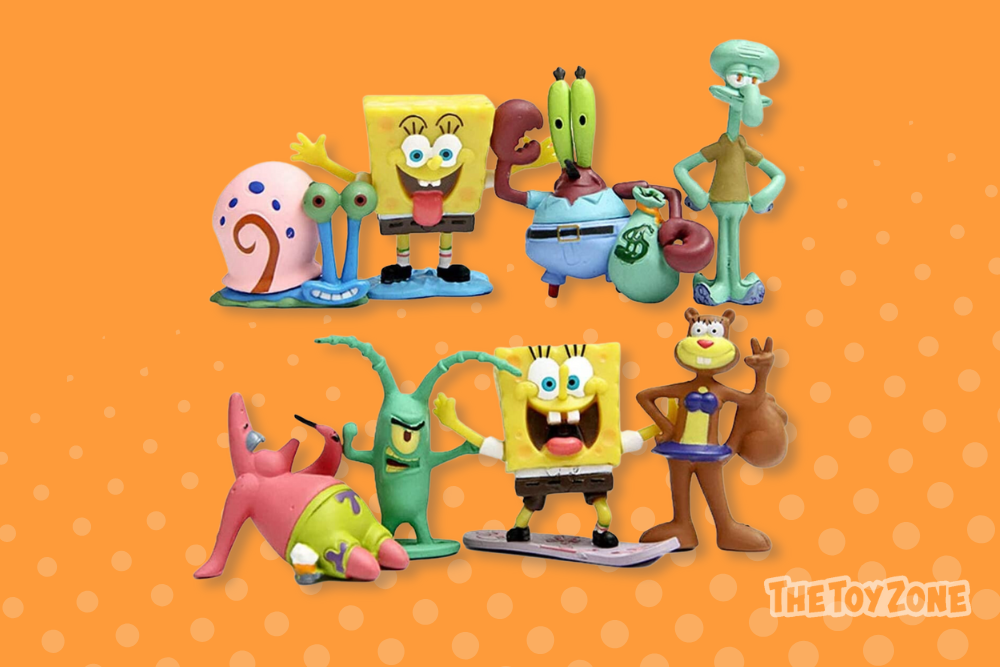 Recommended age: 14 years and above 
What We Love:
Whether it's a Halloween party or a day of living as their favorite character, Rubie's full-size SpongeBob costume will do the trick. This officially licensed Nickelodeon costume features a tunic top and shoe covers to complete the look. It captures SpongeBob's signature style and is simple, comfortable and with a good-quality print. For an added touch, just grab an everyday spatula from the kitchen and they'll be ready for role-play and a world of fun!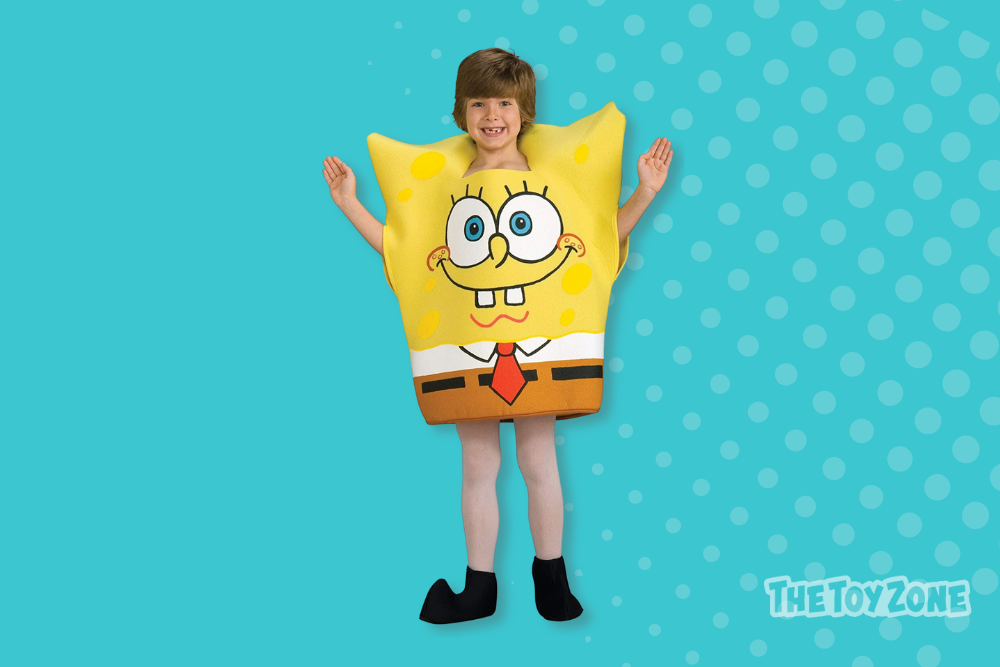 Recommended age: 5 years and above 
What We Love:
💔 The design may fade over time
💔 Hand Wash Only
❤️ The material is soft and stretchy 
❤️ Great quality with double-needle sleeve and bottom hem  
❤️ It's true to size, with a nice fit
What We Don't Love:
❤️ Has a lot of action pieces 
❤️ It's compatible with other brands of blocks 
❤️ Great for display and imaginative play 
What We Don't Love:
❤️ It's tightly stuffed
❤️ Made of PP cotton
❤️ Part of a collectible SpongeBob Snails series featuring Prehistoric Gary, Mary, Larry and Snellie; all stickable.
What We Don't Love:
❤️ SpongeBob's expression is funny and cute
❤️ Also makes an excellent collectible
❤️ Great for group play
What We Don't Love:
This playset is a real treat for those SpongeBob fans who love to draw. While it may resemble the classic 90s Etch-a-sketch, this drawing board adds a fun touch with its vibrant, multicolored board. It features a stylus pen, a cute Gary-themed eraser slide to swipe and start afresh and three geometric stamps to add perfect circles, triangles and stars to any masterpiece.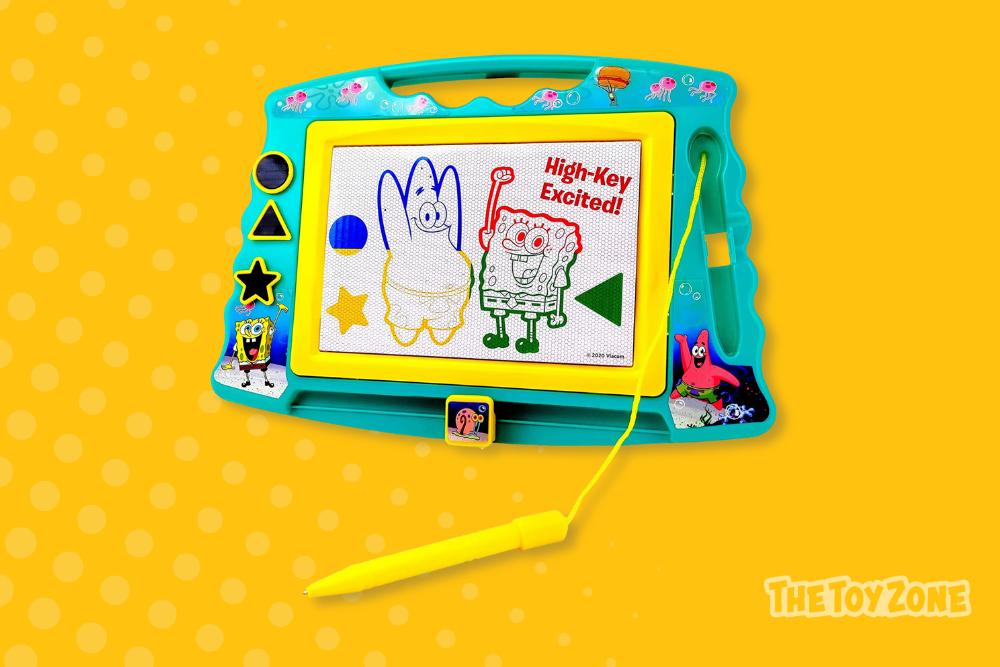 Recommended age: 3 years and above 
What We Love:
💔 Hand wash only
💔 The somewhat thin fabric may result in a lumpy effect
It's because it's fun in a way that truly resonates with them. The show has traits children can relate to: hyperactive, fast-paced, delightfully absurd and often doesn't follow logical sense. 
❤️ Super soft and warm
❤️ Great screen printing quality
❤️ Machine washable
What We Don't Love:
💔 Designed for 3 – 5-year-olds, it may be too small for some kids
💔 The backing could be sturdier
---
Frequently Asked Questions About SpongeBob Toys
🙋 Why do kids like SpongeBob so much?
❤️ Super bendable figures
❤️ The designs stand well with continuous use without cracking 
❤️ Colors are vibrant and accurate 
What We Don't Love:
❤️ The spatulas shoot pretty far 
❤️ There are many fun hidden features and details to discover while playing 
❤️ Fairly big for an immersive playing experience 
What We Don't Love:
❤️ Features a working periscope
❤️ Comes with the batteries and one can of silly goo 
❤️ Compatible with most replacement cans 
What We Don't Love:
❤️ Plenty of room to layer clothes underneath in cold weather 
❤️ Very easy to fold and pack away when not using 
❤️ Super easy to put on and off
What We Don't Love:
This notebook is a visual treat for any SpongeBob enthusiast, featuring six unique, full-colored page dividers and tabs, each themed with one of Bikini Bottom's most famous residents. The 144-lined pages are thick and resistant to withstand all kinds of doodles, notes and scribbles. Whether for a student, a writer, or a diehard SpongeBob fan, this notebook is a must-have.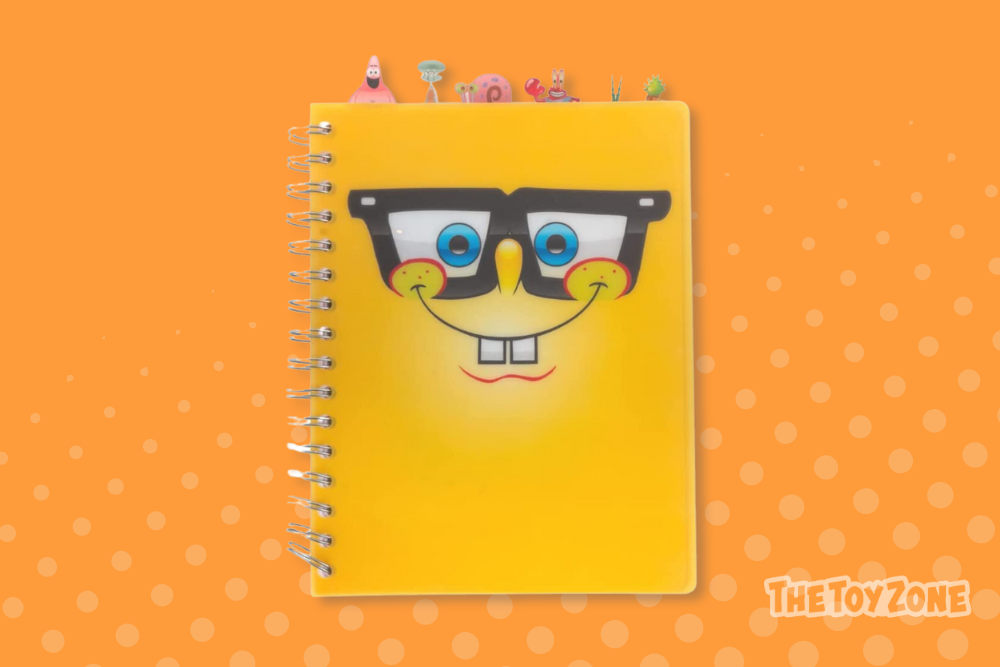 Recommended age: 6 years and above 
What We Love:
This cute magnetic play set is an excellent option for creative minds. With 40 fully licensed SpongeBob magnets of characters and iconic pieces from the show, it will engage kids in imaginative play. The full-colored metal case, designed like a magnetic book, serves as a fun play space and a convenient storage solution. Fostering storytelling skills, kids will enjoy inventing and recreating their favorite underwater adventures.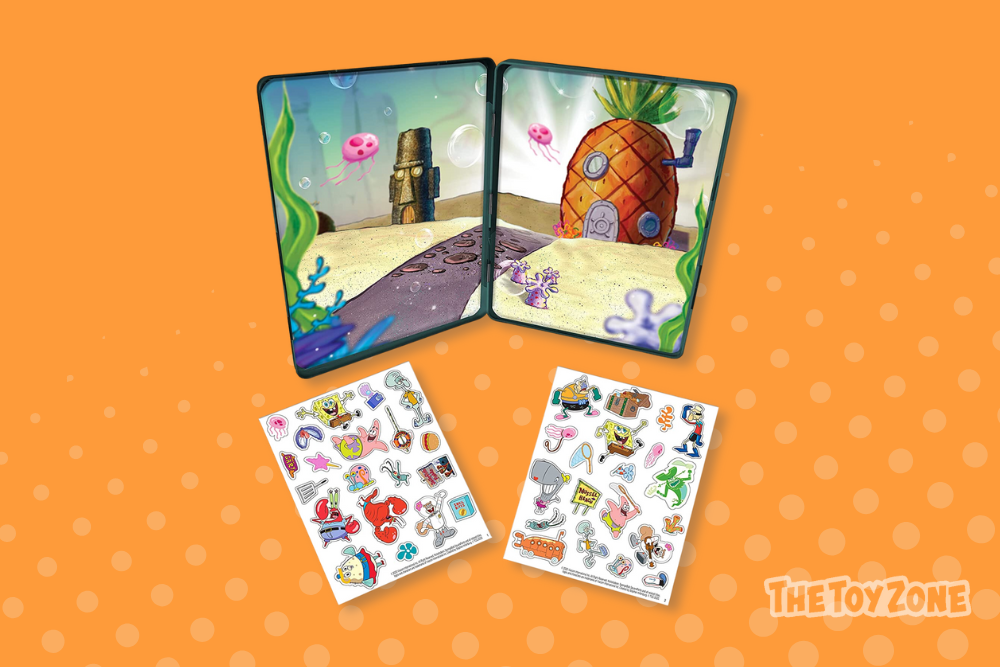 Recommended age: 3 years and above 
What We Love:
❤️ Lightweight and portable, perfect for road trips in the car
❤️ Cuts down screen time
❤️ Great for drawing without a mess 
What We Don't Love:
Fast forward to the present day and SpongeBob's charm is still going strong. With over ten seasons, three blockbuster movies and a shipload of video games, this show has earned its place as a cultural phenomenon.
❤️ Look just like the movie characters 
❤️ Invincibubble figure includes a cool accessory – the bubble-blaster 
❤️ Durable, sturdy figures
What We Don't Love:
With 86 easy-to-assemble pieces, this playset brings the iconic Patty Wagon to life, complete with delicious-looking layers like a Krabby Patty. The wheels on this racer may be small, but they are mighty and slide with great speed. The Patty Wagon Racer Playset combines construction and imaginative play, a nice treat for young SpongeBob fans.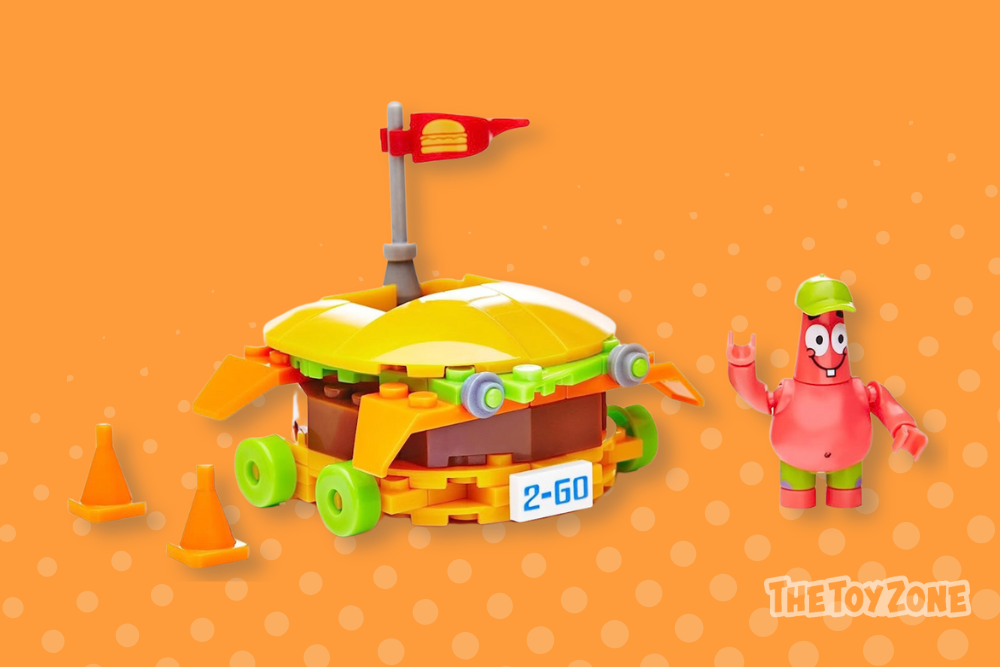 Recommended age: 5 years and above 
What We Love:
This silly string cannon takes fun to a new level. A simple pull of the trigger will activate one of over 20 built-in SpongeBob phrases and sound effects. So, the fun won't be over when the silly goo runs out. The Giggle Blaster is made from durable plastic and can handle hours of non-stop playtime. It's the perfect size for smaller kids, yet powerful — it sprays silly strings to up to 15 feet.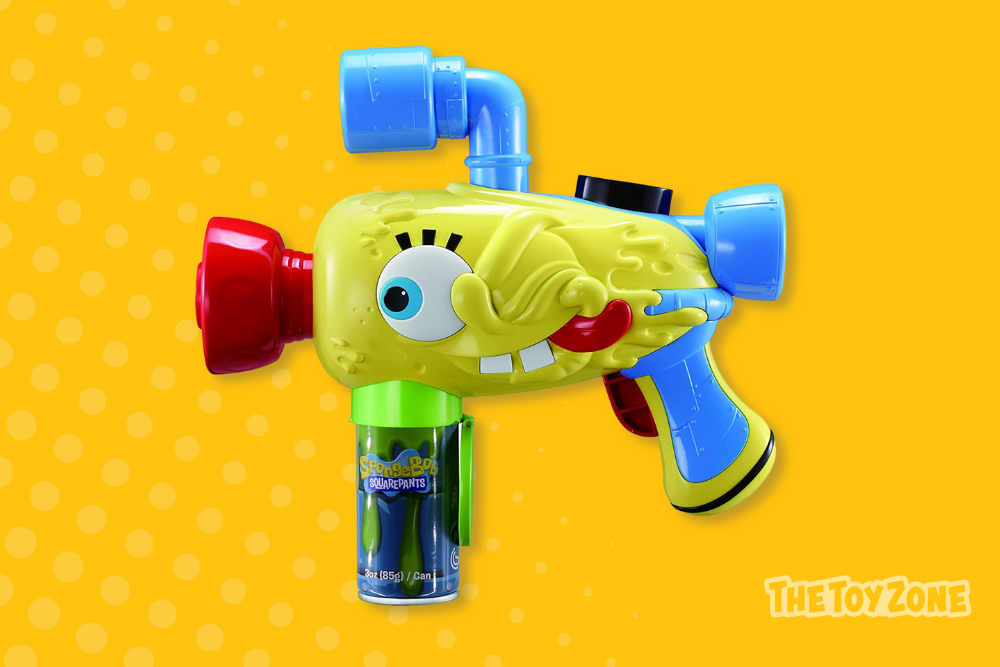 Recommended age: 4 years and above 
What We Love:
💔 Figure doesn't look exactly like Patrick from the show
❤️ It's easy to assemble
❤️ The hoses doors can be opened and reveal some of their insides
❤️ There's a cute coral hanger for the jellyfish 
What We Don't Love:
❤️ Stands out, which helps you not to lose it at school
❤️ Features a useful handle
❤️ It is easy to open for little kids
What We Don't Love:
💔 Requires 6 x AA batteries (Not included)
💔 Consumes batteries quickly 
❤️ Super soft and perfect for lounging
❤️ Highly versatile for different activities 
❤️ Features SpongeBob's iconic nose 
What We Don't Love:
SpongeBob also represents how children perceive adults: having a job he enjoys, living independently and freely exploring without age restrictions. Yet, he retains a childlike innocence, joy and sensitivity. 
💔 Lots of instructions to wrap your head around.
💔 Limited to four players per round
Best SpongeBob Vehicles
❤️ The Jolly Roger on the sail is printed, not a sticker 
❤️ The bubble blaster does fire bubble-like pieces 
❤️ The treasure chest is cleverly hidden under the rock
What We Don't Love:
💔 May be too easy for some
💔 The pieces may bend over time 
As kids play, they'll uncover an enchanting transformation into an epic castle, with secret passages, a sneaky trap door and hidden compartments to make playtime epic. SpongeBob takes on a new role as a daring medieval knight, defending the Krabby Patty formula from the sneaky wizard, Plankton. Armed with spatula projectile firing cannons and a net to catch the mischievous foes, Knight SpongeBob means business!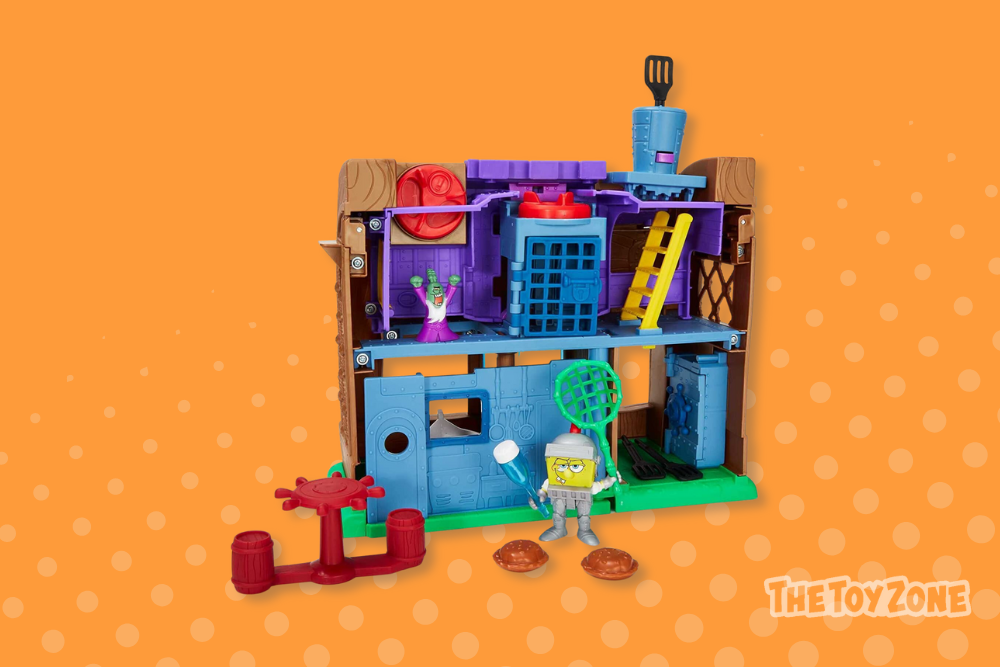 Recommended age: 3 years and above 
What We Love:
💔 Availability limited to expensive third-party resellers
💔 Some may find it smaller than expected
Best Puzzles/Board Games
💔 Sizes can be a little small, so it's better to size up
💔 Doesn't include Patrick
💔 The figure's details could be better
💔 Not as good as a LEGO
💔 To some, the figures were smaller than expected
💔 May be tricky for younger players, as some cards can be too specific
💔  Some popular memes are missing
These Nickelodeon toys capture SpongeBob's playful whimsy and Plankton's mischievous grin. The 7-inch plush dolls are perfect for little hands but also make a great addition to any comprehensive SpongeBob collection. The upper parts are stuffed with regular plushie fill, while the bottom is filled with beans, so they can sit upright without toppling over. Whether for cuddling or imaginative play, these versatile plushies are perfect companions to re-enact scenes from the show.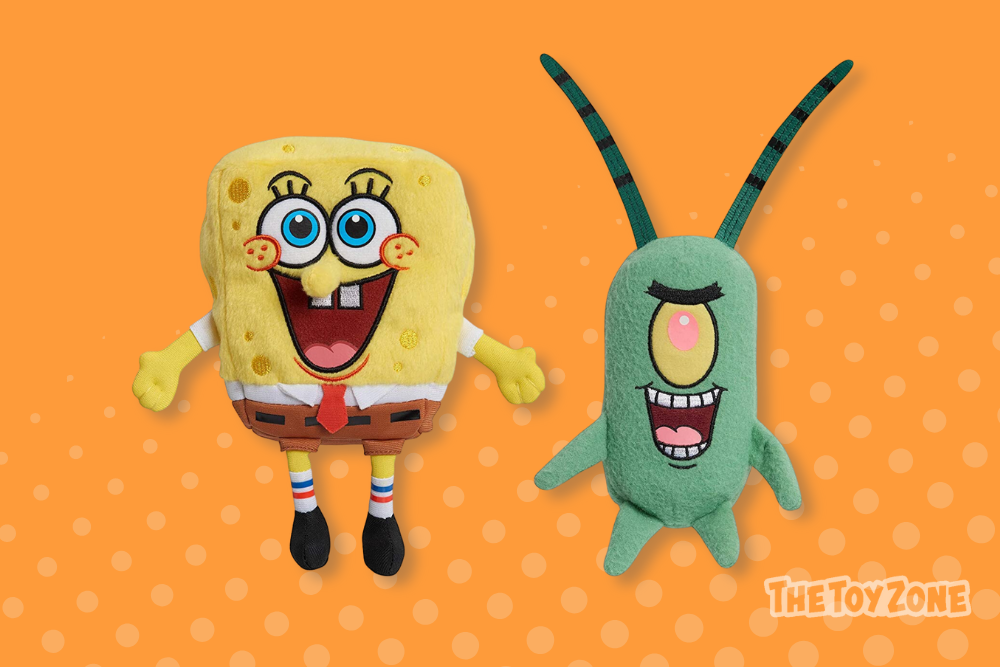 Recommended age: 3 years and above 
What We Love:
💔 Coloring of characters could be better
💔 Not all the characters can stand upright 
While the TV show and movies are intended for kids aged 6 and up, SpongeBob toys offer a different experience. Unlike television or other forms of overstimulating video content, toys provide a tangible and interactive playtime. 
That's where we come in.
💔 Doesn't work as well with fewer players
💔 Sound is a bit low and muffled
💔 It could include more coloring pages/standees
💔 A greater range of markers would be nice
Best SpongeBob Gifts They Can Take To School
❤️ Can be combined with other Mega Bloks SpongeBob SquarePants playsets
❤️ Easy to build
❤️ Features a cute Krabby Patty flag
What We Don't Love:
Made from super soft material, this is the perfect snuggle buddy. Featuring convenient Velcro straps, it can be easily folded into a plushie to take to sleepovers and on-the-go adventures. Plus, SpongeBob's face is embroidered, even on the face side, for a gentle and comfortable touch.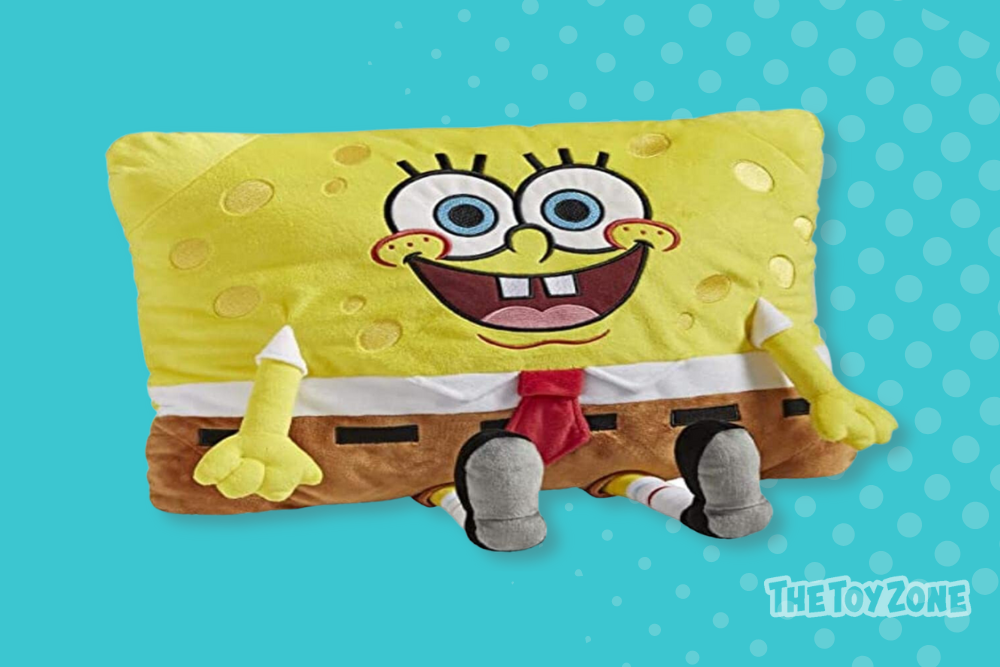 Recommended age: 3 years and above 
What We Love:
💔 The set includes two puppets set of each character instead of 10 different ones
This all-inclusive SpongeBob kit is packed with everything young ones need for a fun coloring and crafting session, whether at home or on the go. Perfect for little artists, the box contains sticker sheets, mini markers and a SpongeBob-shaped sketch pad. It also includes SpongeBob and Patrick coloring standees. The colorful tin box is versatile and can be repurposed as a snack box or even a treasure chest for carrying unique toys around.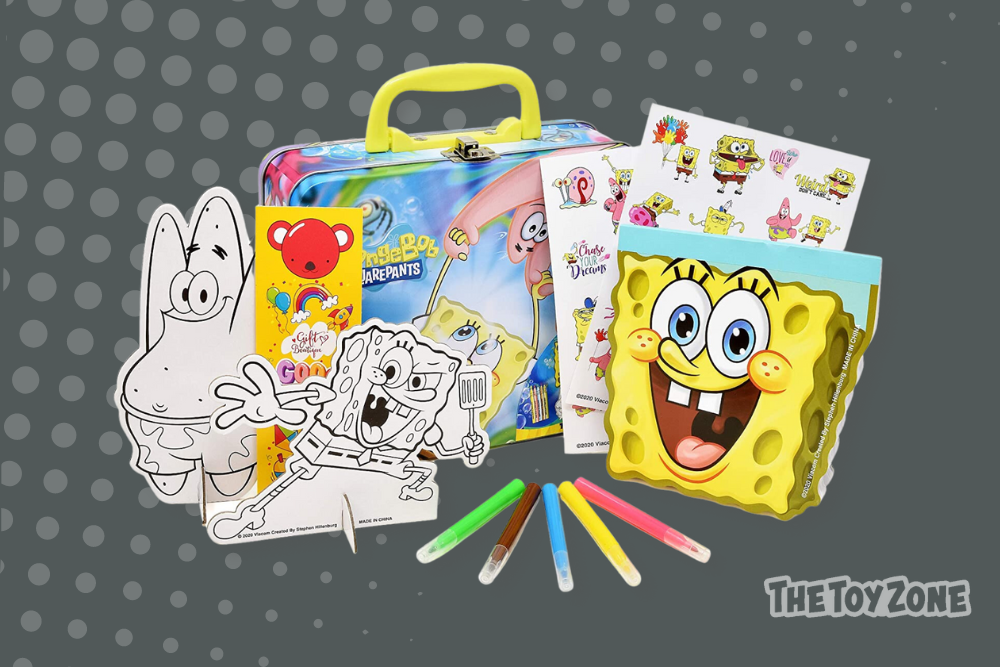 Recommended age: 3 years and above 
What We Love:
❤️ The cover is sturdy
❤️ The pages are pleasant to write on 
❤️ The spiral binding makes it comfortable 
What We Don't Love:
💔 Patrick Star is less bendable than the other figures
💔 The figures are available as single-carded figures as well, so make sure you're buying the multipack
While there are some Bikini Bottom mysteries that we can't explain, such as how its residents drink water or make bonfires in the ocean, one thing we can help with is finding the best SpongeBob toys.
With over 450 pieces, this set meticulously recreates Bikini Bottom, ensuring nothing is left out to make this party a success. It features a drinks bar, a see-saw, speakers and a cool DJ Patrick  to rock the party. Unlike other LEGO sets that are more focused on building than playing, this one strikes the perfect balance between the two. Once assembled, the imagination truly kicks in and imaginative playtime is on.
Recommended age: 6 years and above 
What We Love:
This Krabby Patty-shaped RC car rides fast and smooth — and earned Mom's Choice Awards golden "Honoring Excellence" badge. With its user-friendly control, the car can move forward, backward and expertly through the jellyfish fields with precise left and right turns. It stops quickly and precisely, allowing for agile control and swift maneuvers. Designed for savvy SpongeBob fans, this officially licensed toy will have kids racing in no time!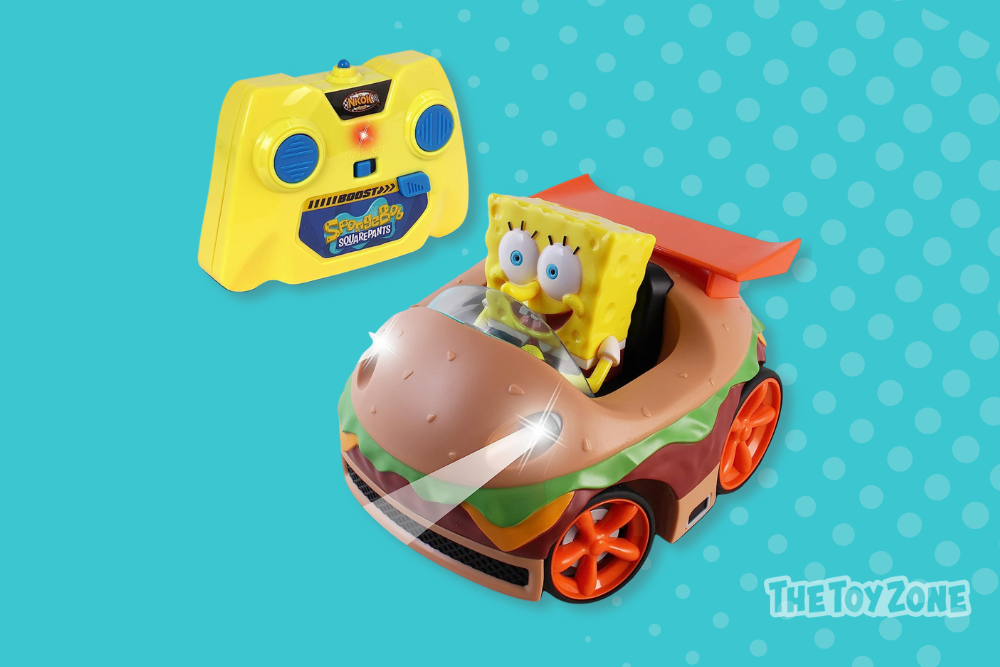 Recommended age: 6 years and above 
What We Love:
A good starting point is knowing whether kids are enthusiasts of SpongeBob himself or if they lean towards Patrick and his playful antics. Perhaps they have a soft spot for Gary. Then, for savvy builders the Flying Dutchman LEGO set comes full of details and surprises. But if figures are what's trending at home, a set of bendable characters would be a fantastic addition to their toybox.
❤️ Can be used as cake toppers 
❤️ Great for imaginative play
❤️ Perfect size for little hands 
What We Don't Love:
So, get ready to dive in!
The Top 3 SpongeBob Toys
These ultra-flexible figures are a splendid revival of a 90s classic. The Bend-Ems 4-pack brings together Bikini Bottom's most beloved characters: SpongeBob, Patrick, Squidward and Mr. Krabs. Each figure is larger than your average figurine and faithfully captures its cartoon counterparts. With great poseability, the set is perfect for sparking imaginative play and easily recreating SpongeBob adventures.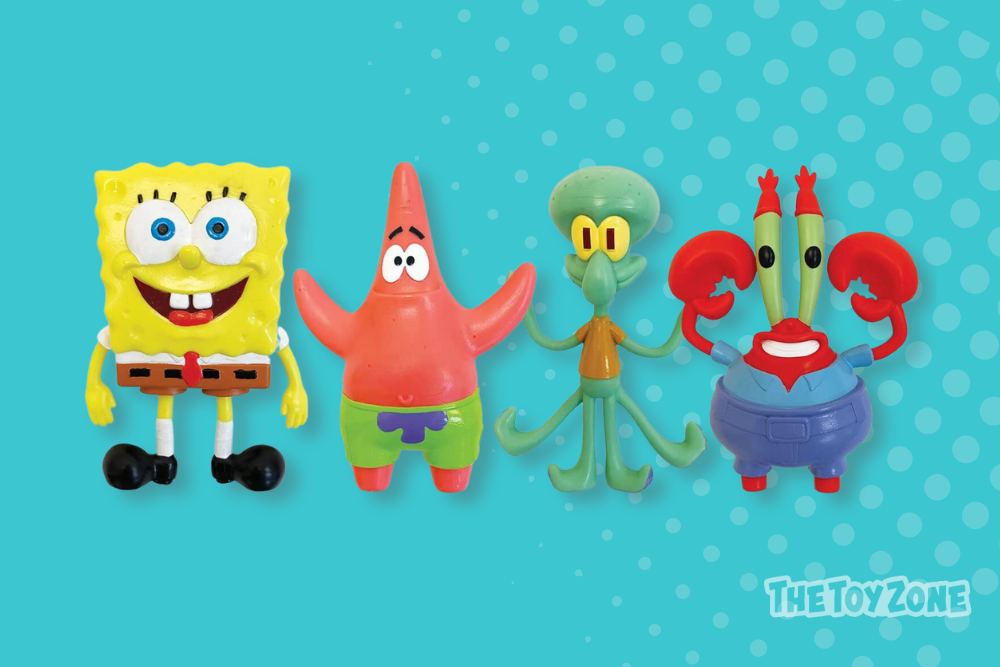 Recommended age: 3 years and above 
What We Love:
This action-packed LEGO set, consisting of nearly 250 pieces, creates the perfect backdrop for thrilling pirate battles and epic quests.  With LEGO's meticulous attention to detail, the Flying Dutchman's ship comes to life with eerie green, transparent lanterns, creating the perfect ghostly atmosphere. The set also includes a treasure island with a hidden treasure chest, bubble buster, plank, treasure map and a crow's nest.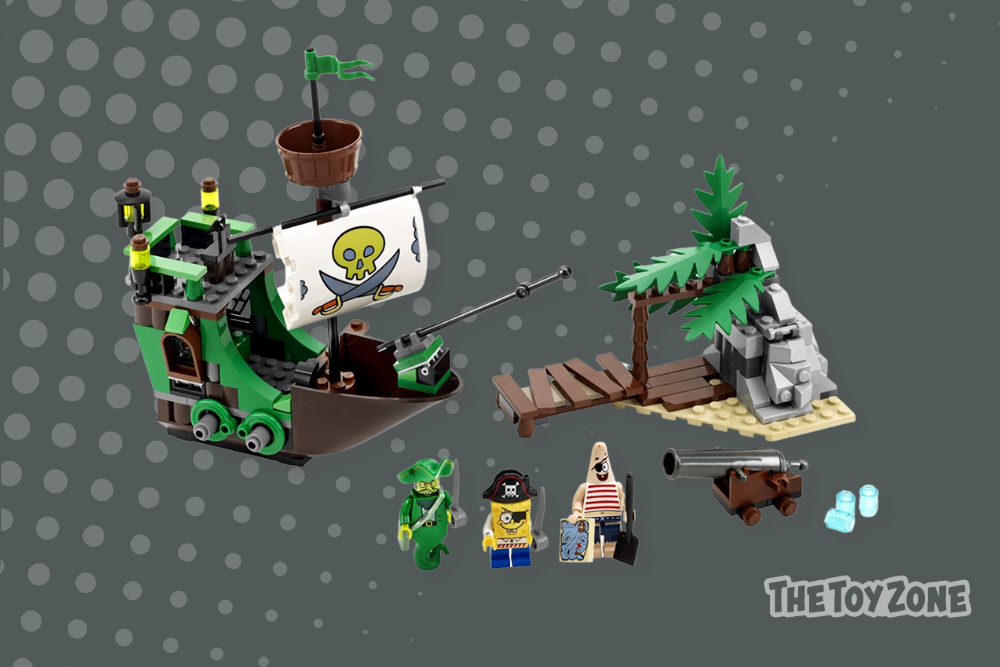 Recommended age: 6 years and above 
What We Love:
❤️ Great for gifts
❤️ Super soft and well made 
❤️ It's an authentic licensed product
What We Don't Love:
This yellow water bottle is a must-have for SpongeBob fans who are always on the go. Made from translucent plastic, it's refillable and adds a playful touch to staying hydrated. The vibrant blue lid is functional and also adds a pop of color. With a capacity of 16.5 oz, it offers a bit more room than the average 12-ounce kids' bottle, yet it remains lightweight and easy to carry. Plus, it comes with a bunch of stickers to fully personalize it.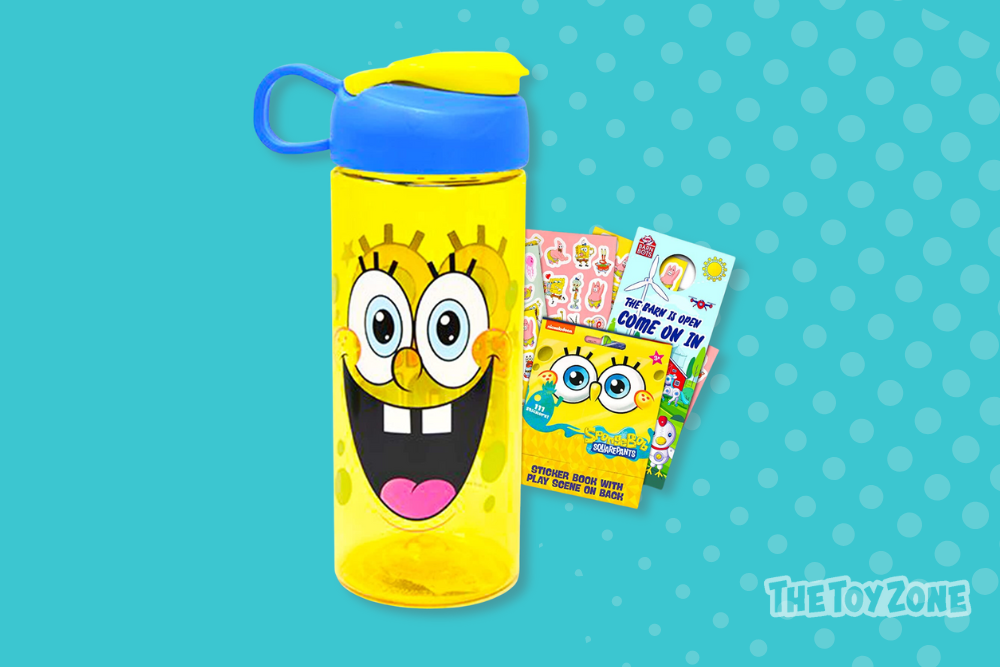 Recommended age: 3 years and above 
What We Love:
💔 The tabs can get bent/crumpled over time
💔 The shipping packaging may not be the best to protect the tabs
Best SpongBob Gifts They Can Wear
When it comes to kids' shows, few can stand the test of time like SpongeBob SquarePants. Since its debut in 1999, this one-of-a-kind series has captured the hearts of children and adults alike, creating a lasting bond with viewers across generations.
💔 Available only through expensive third-party reseller
💔 Some details are just stickers
❤️ Super lightweight  
❤️ Comes with a handle on top so toddlers can move it around easily
❤️ Great print and durable bright colors
What We Don't Love:
❤️ The set includes four minifigures: SpongeBob, Patrick, Squidward, Mrs Puff and Gary 
❤️ SpongeBob's and Squidward's houses are full, interactive of details
❤️ Great for a family activity
What We Don't Love:
Looking to stay cool while rocking your favorite character? Go for this epic Patrick t-shirt instead. This pretty pink shirt is made from 100% lightweight cotton and has an excellent, comfy fit. It's officially licensed and can withstand countless machine washes without losing charm. Oh, and here's a tip: it's available for kids and in adult sizes.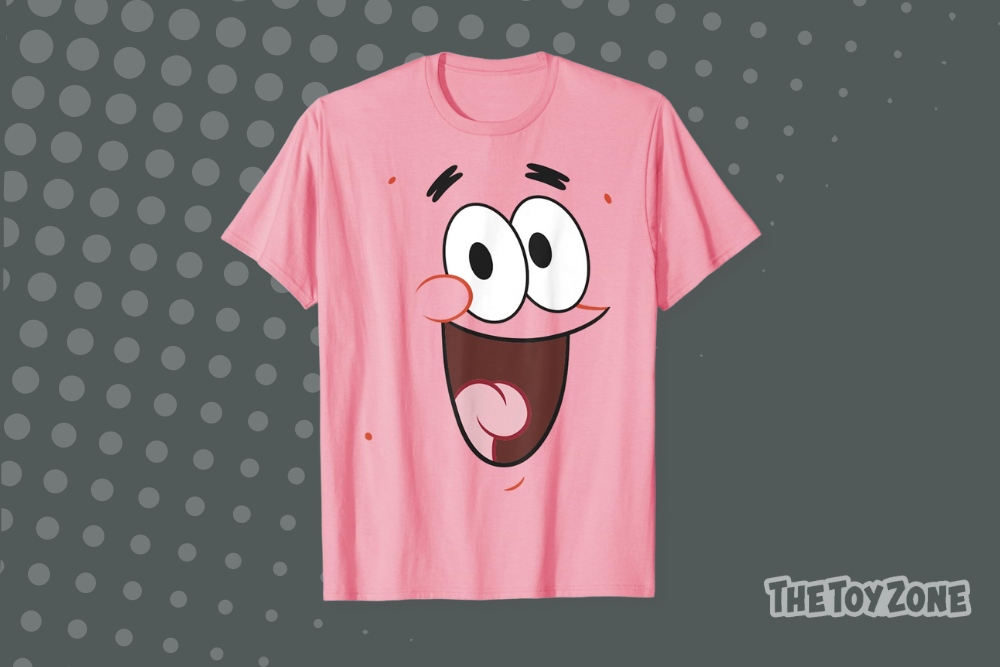 Recommended age: 2 years and above 
What We Love:
Get ready for a hilarious twist on the classic hot potato game with SpongeBob! Simply squeeze his belly and let the catchy tropical tune play. Pass him around quickly before he surprises everyone with a burp. You'll earn a token if you're the unlucky one left holding SpongeBob when he does. The player with the fewest tokens wins the game. With its funky tunes and funny sound effects, this game will surely spark laughter and keeps the giggles going.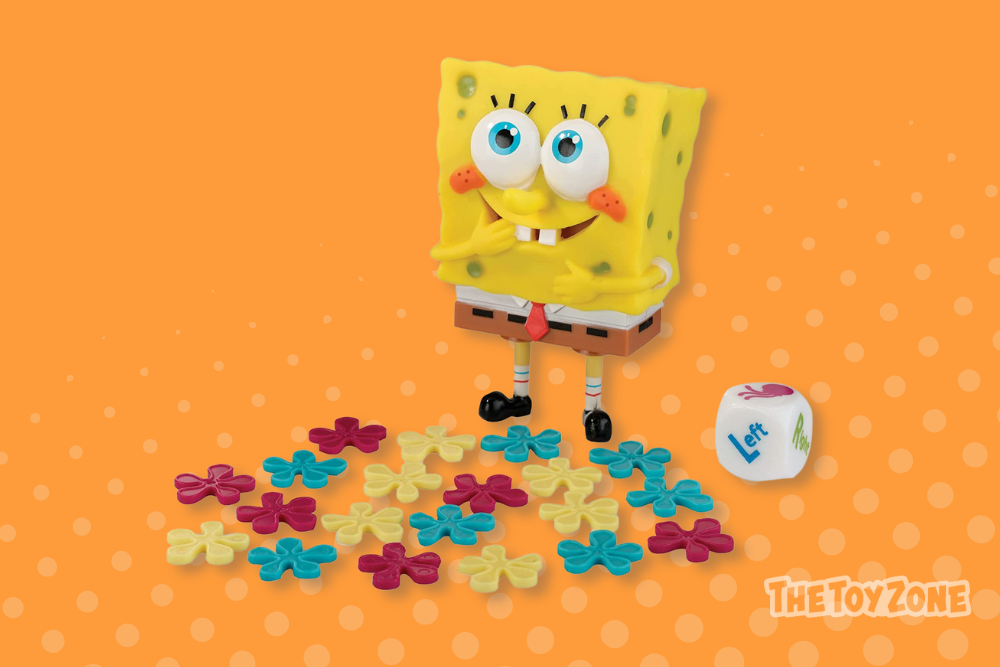 Recommended age: 6 years and above 
What We Love:
At 25 inches tall, SpongeBob's cuddle pillow toy fits the bill perfectly. Its bulky, cushioned body invites hugs, while the arms and legs are skinny and long, just like in the show. Plus, they are versatile enough to join little ones on all their adventures, whether chilling at home, going on a road trip, or having a sleepover. Who doesn't love a cozy pillow? This one is an absolute must-have for SpongeBob fans.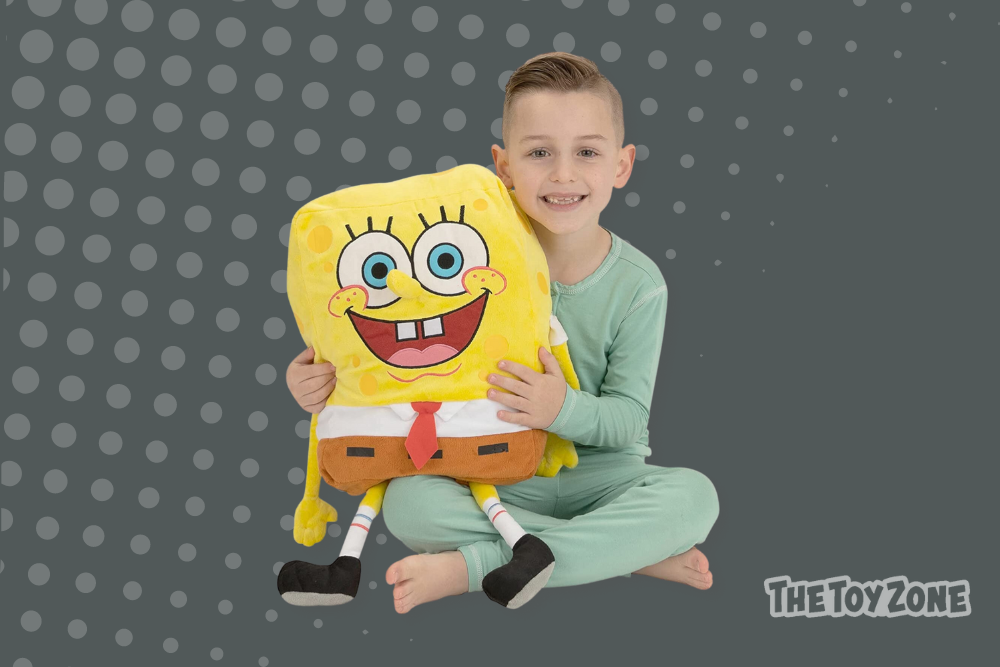 Recommended age: 3 years and above 
What We Love:
UNICEF recognizes the importance of play in the development of children's cognitive skills, emotional well-being, social competence and overall physical and mental health. Toys promote imagination, interaction and independent play, allowing children to explore their creativity and develop various skills. 
💔 Has no stitching around the neck opening
💔 SpongeBob's socks are not included
💡 For fashion-forward SpongeBob fans, check out this yellow Tulle Dress that brings the glitz and glam in style.
Best SpongeBob Activity Sets & Coloring Books 
SpongeBob stands out as one of the few shows that explores the challenges of a childlike character navigating the adult world. All this, of course, with plenty of laughs and giggles along the way.
🙋 What age is appropriate for SpongeBob toys?
❤️ Strong stitches hold all the limbs together 
❤️ BPA & Phthalates free 
❤️ Comes with clear instructions for cleaning the pillow 
What We Don't Love:
💔 May shrink in the tumble dryer
💔 To some, it was smaller than expected
💔 The movable pieces can get easily lost
💔 Only a few characters included
Best SpongeBob LEGO Sets
❤️ It has working lights
❤️ Very sturdy build
❤️ Features rubber wheels that turn really well
What We Don't Love:
❤️ Fits all size fingers
❤️ Made of 100% latex and phthalate-free, durable plastic
❤️ Cute party favors. 
What We Don't Love:
💔 SpongeBob character doesn't fit in the vehicle
💔 To some it was smaller than expected
Best SpongeBob Costumes & Pretend Play Gifts
Made from super soft material, Gary's plushie is designed with meticulous attention to detail. The vibrant colors capture Gary's iconic light pink shell and the striking red swirl. But this toy is about more than accurate details and quality craftsmanship. Like other Youtooz Stickies, this plushie features four strong sewn-in magnets on the sides and the bottom, allowing you to attach it to any magnetic surface — making it look like a real snail!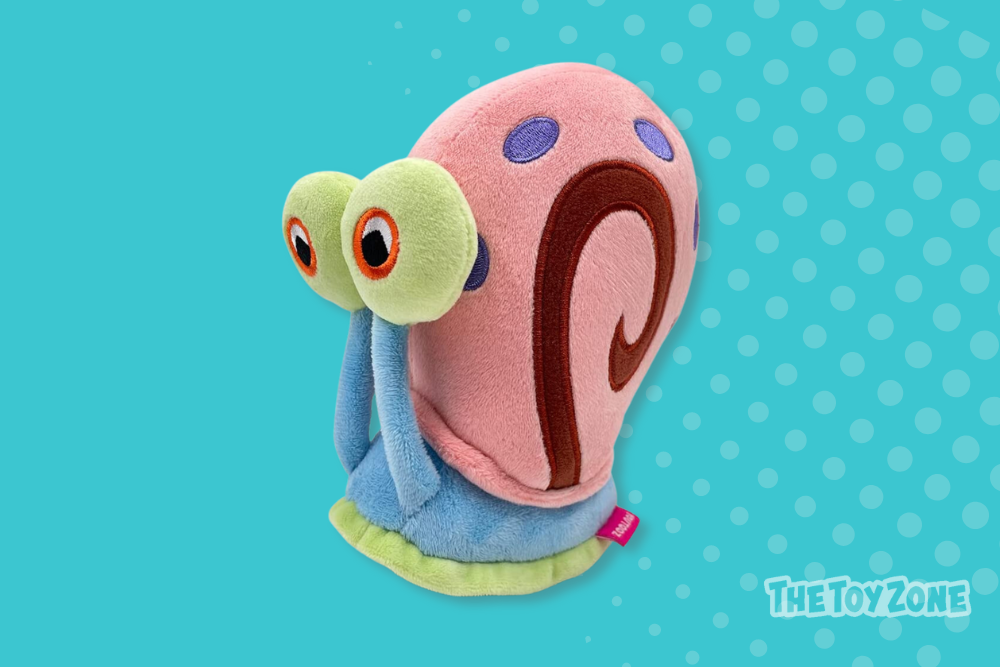 Recommended age: 5 years and above 
What We Love:
💔 The faces are mostly embroidered, but the eyeballs and tongues are glued on
💔 Some don't like SpongeBob's eyebrows (these were added in season 4)
Best SpongeBob Playsets
Overall, we've done our best to curate a list that caters to the tastes of young SpongeBob fans of all kinds. Some options may even catch the eyes of not-so-young fans. However, if there are any must-have options we missed, feel free to contact us. We'd love to hear your suggestions!